Zain Bhikha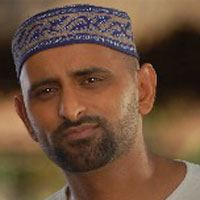 Zain Bhikha is one of the most successful Islamic singers today and has inspired fans the world over with his messages of hope and upliftment. As a singer, songwriter and through creative workshops and television, Zain serves as an ambassodor for promoting postivity about his faith whilst simultaneously delivering messages of unity amongst nations and global peace through his various projects.
From the time that Zain recorded his first album in 1994, his experience as an artist has grown tremendously, increasing his exposure in his country of birth, South Africa, as well as globally. Zain remains a pioneer in the 'Nasheed' genre of music, where, as one of the first English Islamic singers, he opened the door for many other artists. His albums have been launched in many countries including the United Kingdom, North America, Malaysia, France, Turkey, Holland, India, The Middle East, and Australia. He has performed live in cities across most continents and has become a household name when it comes to spiritual music.
Zain considers himself first and formemost, a proudly South African Muslim. He comes from a family who was involved in the struggle for Freedom and believes he is among the fortunate to have lived in South Africa through this remarkable time in South African history. He is also an avid fan of the game of soccer. These passions and his vision as an artist have led to his latest project. One that is as much personal as it is meant for the people of his country. In Zain's words, "When I consider projects, I look at them in terms of what's needed and not in terms of what will sell. I look at what the community needs and where I can make a difference." This 'making a difference' approach culminated in the writing, composing and performing of his newest single to be released to the mainstream market in celebration of the 2010 FIFA World Cup. Aptly entitled, 'First we need the Love", this incredible song, featuring Zain's 17 year old son, Rashid, is about making a difference through the power of love, and sparking that change by beginning with yourself. In a unique audio and video release featuring another trademark song, "Who I am!", this album is sure to capture the hearts, get the feet tapping and make South Africans and indeed the world, feel the love.
Zain says that a further motivation behind the song was to celebrate South Africa's multi-cultural society and to lend support to this 'country-changing' event as an Islamic artist. In his own words, "in the littlest or grandest of ways, you can change the world, you can make it better!"
Just who is Zain Bhikha?
Zain Bhikha was born in Pretoria in 1974 and began his music career at the tender age of 19 in 1995. He is a musician, philanthropist and businessman who has dedicated the last fifteen years to using music as a forum of uplifting the community. He holds youth workshops in various countries around the world and donates all proceeds from his music to charity. In 2009 Zain was honoured as one of the Top 500 Most Influential Muslims in the world. A great achievement, it serves to illustrate the fervour with which he approaches his projects and his complete dedication to the Islamic faith and community. He is a force of nature determined to build positive outlooks and outcomes in and about the Muslim faith.
Zain's journey into music began after losing his best friend in a tragic accident at the age of nineteen, Zain first put pen to paper, creating an intricate song of loss and love that has brought tears to the eyes of many. His career however, took off when he won a singing competition hosted by Johannesburg based radio station, 702 in 1994. His entry into the competition was a simple melody composed on his home karaoke which was to change his life forever.
His songs have always been as much a personal reflection as they have addressed universal human issues. As such, they appeal to large audiences and have in fact, been used in many peace conventions worldwide.
Five years into a blossoming career he met Yusuf Islam - formerly Cat Stevens, and collaborated on Yusuf's album "A is for Allah". He was subsequently signed to Yusuf's record label "Mountain of Light". Through this incredible partnership, Zain had the privilege of working with unbelievable artists such as Dawud Wharnsby Ali and Native Deen. These men have inspired Bhikha with the complete love and passion that they have for both music and the Muslim faith.
In 2005 Zain established a South African based production company called "Zain Bhikha Studios". This company serves to house all of Zain's present and future works in all fields; be it music, educational projects through schools, workshops or theatre productions. Zain Bhikha Studios was also created with the intention of giving local and international artists the platform to gain exposure through Zain's experience and resources in the industry.
Aside from being a talented performer and writer, Zain is also a father of four sons, with a great concern for the youth. He understands the many troubles that children may be exposed to today, and it is for this reason that he conducts workshops with teens. He motivates them to utilise their creative talents for the benefit of society and self. Entitled "The Art of Creative Expression", these ground-breaking one day workshops began in South Africa, with over 1000 attendees nationwide in the first month. Workshops have since been successfully conducted in London, in association with Dawud Wharnsby Ali and the Redbridge Council, as well as Australia, Holland and India. Zain aims to take these workshops to countries throughout the world within the next few years. Currently he is also conceptualising the idea for 'Urban Poet,' a youth project which will entail recording songs that carry positive messages written and sung by young people from around the globe.
In addition to producing music and holding workshops, Zain has also written and directed theatrical productions aimed at invoking a spiritually uplifting message. One of his many successful productions, "An Orphans Tale", which he produced in conjunction with a South African School, was a great success and brought a full house for the three nights that it ran in October 2003.
An interest in television production and its ability to be a medium for positive messages led to Zain's collaboration with Peace TV and Dawud Wharnsby Ali on a series entitled "Living Islam with Zain and Dawud". Zain was involved in the conceptualisation and scriptwriting of this 30 episode series, aimed at children between 3 and 10 years. Alive with song, humour and positive messages the series was indeed a milestone and the first of its kind for an Islamic audience. The show was a success and Peace TV executives have already expressed interest in a follow-up series.
In 2009, Zain worked on a different style of album in dedication of 15 years as an artist. Leaning towards the mainstream market with songs that have a more universal appeal, the compilation of songs on "1415- The Begninng" is sure to catch the attention of old fans and attract some new ones. With most of the songs composed by Zain, the album boasts a collaboration of some earlier work that had not been formally released with new material that is bound to leave listeners enthralled. "I always wanted this to be a hobby; I always wanted it to be something I just did for the love of it, not for any money or fame, and I never wanted to do it for a living, because unfortunately when that happens you tend to begin compromising what you want to do versus what you need to do," he says, adding that until recently he worked full time at his father's pharmaceutical company. Through the blessings of God, I have been most fortunate to be a situation where I don't have to do this for a living. You need to do it for the right reasons and hopefully then you can keep it pure."
For more information about Zain Bhikha visit www.zainbhikha.com become a fan by signing up on www.facebook.com/zainbhikhaofficial