Shaam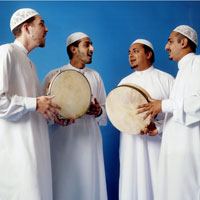 Shaam is a nasheed group from Birmingham, UK.
Shaam is made up of Mahmood Norris, Yasin Alam, Haroon Bashir and Imran Bashir and was formed in 1997. The group took their name from the Arabic name of the country Syria, each member having visited and/or studied there at various times. As well as performing Arabic nasheeds, Shaam sing also in English and Urdu to cater to their non-arabic speaking audiences.
Shaam is a very well known group, having played hundreds of concerts in the British Isles, and have been invited to play in countries as diverse as USA, Pakistan and Syria. Prince Charles himself has been said to have expressed his admiration for them.