Imaan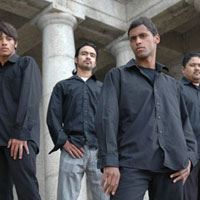 As Muslims, group members Wahied Kannemeyer, brothers Rifaat and Nizaam Moses, and Faizel Abrahams, found themselves growing up in a community which strongly adheres to its faith and traditions amidst a predominantly Western society in Cape Town, South Africa.
Besides enjoying and appreciating the tradition of Qur'anic recital, dhikr (remembrance of Allah) and qasidah early on in their lives, they were also influenced by the music of 'Western' bands as well as those groups specialising in Spanish musical tradition, including the flamenco guitar, by way of artists such as Jessie Cook, Gypsy Kings and Paco de Lucia.
Outside of Western groups, iman's members also enjoy and are influenced by the musical genre of Malaysian and Indonesian nasheed groups such as Raihan, Rabbani and Nowseeheart.
These influences can be appreciated in the group's ability to sing with and without musical accompaniments (acapella).