Hussein Kalla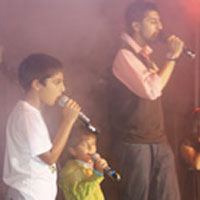 Introducing an inspiring and educational new Nasheed album from debut Nasheed artist Hussein Kalla.
The album, titled For the Pleasure Of Allah, contains unique and original tracks which will appeal to listeners across the board, from young children to teenagers and adults alike. The purpose of the album is to educate, enlighten and inspire people of all ages in a fun and stimulating way.
The title track is called For the Pleasure of Allah; the theme of this song being that our intention for every action should be first and foremost for the pleasure of Allah. It has positive and encouraging words like, "I love to read and learn for the pleasure of Allah, I love to read and learn because it is a Sunnah".
The song Be Like Muhammad (SAW) contains words which will resonate with all Muslims aspiring to be like the Prophet (SAW): "I want to walk like you, talk like you, read my Quran just like you; I want to smile like you, breathe like you, read my Salaah just like you; I want to be like you in everything I do, you are the closest to Allah".
Similarly, the lyrics of the song I Believe in Allah encapsulate the faith of all believers: "Happy to be me, Muslim and free, I close my eyes and all I see is Jannah right in front of me".
Some of the other tracks on the album are called The Plains of Arafah, I Bow My Head, Be and It Will Be, The Hijrah and Justice Before Peace. All the Nasheeds on the album are available in both voice only and drum versions.
The album features the Al Ghazali College Chior and is produced by Yusuf(Jeremy) Karodia who has worked with the likes of Zain Bhikha, Sami Yusuf and Nujumul Layl.