Ahmed Bukhatir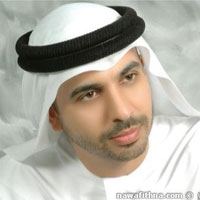 Ahmed Bukhatir is a Nasheed singer from the city of Sharjah, United Arab Emirates. He was born in 1975 to a highly reputable family in the UAE. At a young age, Ahmed started reciting Quran for his school group earning the respect and praise of his family, friends and teachers. At the age of 14 Ahmed's first Nasheed was recorded by the Sheikh of an Islamic centre in Sharjah, this encouraged Ahmed to continue with the words of Islam through his voice. In 1993 Ahmed composed his first Nasheeds called "
Ya man Yara
", "
Hijab
" and "
Ummi
" in 1993 which has received positive reception from the people around him. However it was not until 2000 that Ahmed launched his first official album "
Entasaf al Lail
" and started gaining popularity for his voice with an ideal purpose to spread the word of Islam around the world. After the year 2000 Ahmed went on to make five more albums with the last release "
Hasanat
" in 2007.
His third album "Samtan" which consisted of his first English Nasheed "Last Breath" gained immense popularity beyond the borders of Middle East extending Ahmed's message outside the Arab World which encouraged him to sing more English Nasheeds along with a latest French Nasheed. His singing attracted performances in United Kingdom at the GPU event in 2006 that was attended by an audience of 35 thousand people, Australia, India and many more countries...
Along with the nasheed singing Ahmed Bukhatir is also a businessman & a senator of Sharjah government in United Arab Emirates.